Come and meet us
at the upcoming events in 2021!
We would love to meet you in person or in virtual. If you have an opportunity to attend as well, we would be keen to find out more about your needs and how we can help you.
Get in touch (info@aviationscouts.com, Filiz Kasim-Herr) to book yourself an appointment with us to discuss business opportunities.
+ + + Due to the Pandemic, some of the following events may be postponed. We will inform you at short notice whether we will participate. + + +
1. CCMA & MRO Conference 2021
Punta Cana, Dominican Republic August 22 -24

The ALTA CCMA & MRO Conference is the main annual technical purchasing and maintenance conference. COVID-19 pandemic grounded practically the entire fleet of aircraft in the world, bringing new challenges to the maintenance areas and the purchasing relationships between airlines and suppliers. In 2020, the ALTA CCMA & MRO Conference brought together again industry leaders to develop effective discussions on the solutions needed to generate efficiencies and maximize the social and economic impact of aviation in the region. We are now ready to meet again on August 22 – 24, 2021, at the Hard Rock Hotel & Casino Punta Cana, and continue writing aviation history.
2. MTB Aviation 2021
Rhodes, Greece September 08 – 11

MTB Aviation 'Meet the Buyer' is a programme of one to one appointments between Senior Managers, Technical Purchasing Managers, Senior Officers & Buyers from the international airline community, including Low-Cost, Emerging & Regional, together with Supplier Companies from all areas of the Aviation industry.
3. Aircraft Interiors Exhibition AIX
+++ VIRTUAL in 2021 +++ September 14 – 16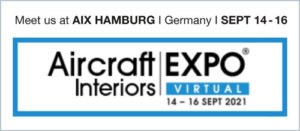 Aircraft Interiors Expo (AIX) is the world's leading marketplace for airlines and the supply chain to meet. AIX plays host to the latest innovations, technologies and products for the cabin interiors, inflight entertainment and passenger comfort industries. Coming to your screens this year, the world's leading cabin interiors event will take place fully online. AIX Virtual will bring the industry together from 14 – 16 September 2021 to gain new insights, meet with suppliers and discover the latest innovations that will help accelerate your recovery.
4. MRO Africa
+++ VIRTUAL in 2021 +++ Ethiopian Skylight Hotel, Addis Ababa, Ethiopia Dates to follow

African Aviation 2021 and MRO Africa includes an exhibition co-located with the Conference for leading International and African MRO suppliers to market their products and services. This Exhibition has grown exceptionally over the last few years and continues to expand with more exhibitors each year.
5. MRO Europe 2021 #MROE
RAI Amsterdam, The Netherlands October 19 – 21

Planning is underway for MRO Europe 2021 and a safe return to live events at RAI Amsterdam. The Aviation Week team is working closely with local authorities and suppliers to ensure a safe return to in-person events. See below for a sneak-peek at what we are working on and check this space often for the latest updates!